Sweet Victory in my Victory Garden!
Walking through our vegetable garden
yesterday I snapped a few photos. I must say that I am rather pleased with how things have turned out in my little garden this year.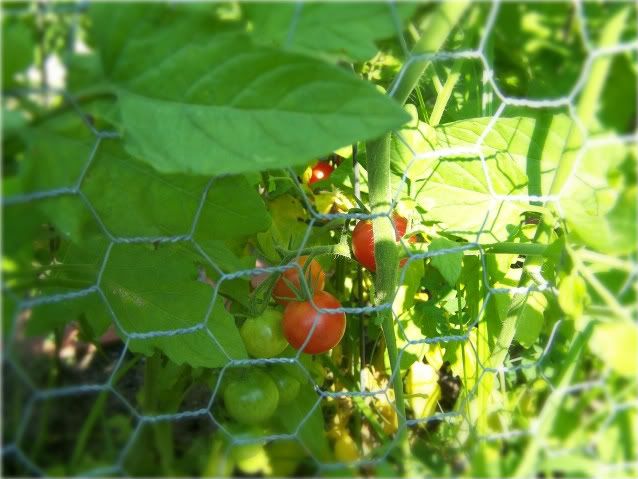 I didn't always feel that way over the past few months and there were many days that

I didn't think I would see a single vegetable come from all of my hard work!
I started up a brand new garden this year and took a leap when I decided whole heartedly to leave out the chemicals and

see where organic gardening would lead me

.

It has been an interesting journey.

My tomatoes once grew long and stalky and squash and zuchini once flowers fell off of the plant if I brushed past it. I quickly realized that converting over would not be all too easy.
My pepper plants are still in a pitiful state, producing barely a thing and when it does it is too small to be worthy of eating! This is something I will have to work harder at for next year.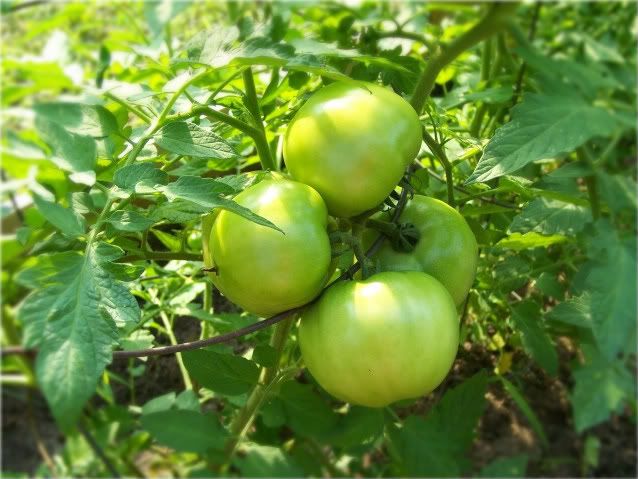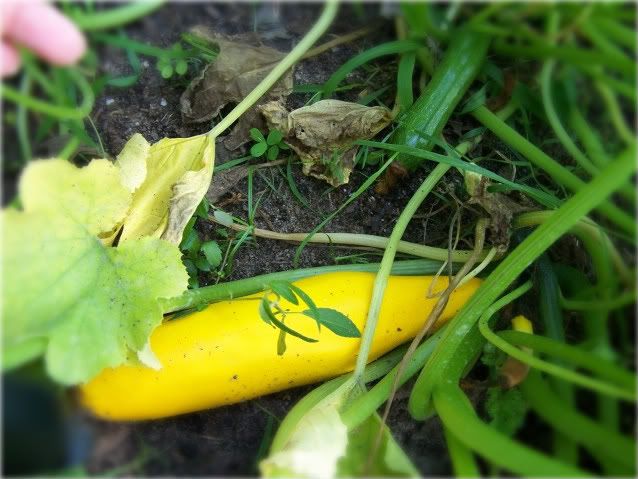 To my surprise though,

mothernature eventually took the reins and led me in the right direction

. By adding natural fertilizers and pestisides, regular watering and tender loving care, very slowly I began to see some results.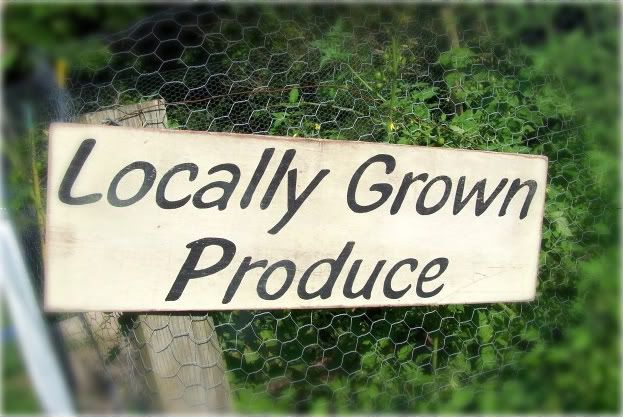 Success can truly be valued after a few failures. My new venture in organic gardening has taught me patience most of all! It seemed to take longer than usual and there were a few times I looked upon all of my hard work and thought it would never come to pass. There is a reason, after all, that Miracle Grow has the word miracle in it, and getting instant gratification from a few sprinkles every now and again was just all too easy!
Some things are definately worth waiting for!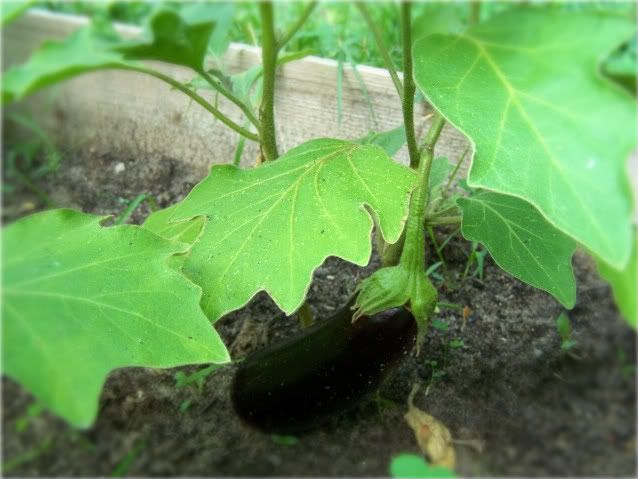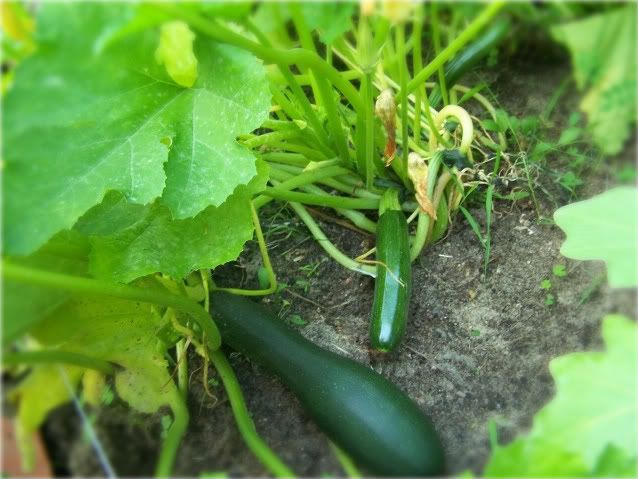 But there is

a true miracle in the slowly moving process of letting mothernature do her job

, slowly coaxing it along naturally and patiently waiting for it to show you the satisfaction of hard work.
I
cannot say that my organic garden has shown me the bounty thus far that my "miracle" gardens of the past could easily produce, however, I am sure that this is certainly another learning process and in time I plan to master this organic garden of mine. Perhaps next year the peppers will also show up for the garden party!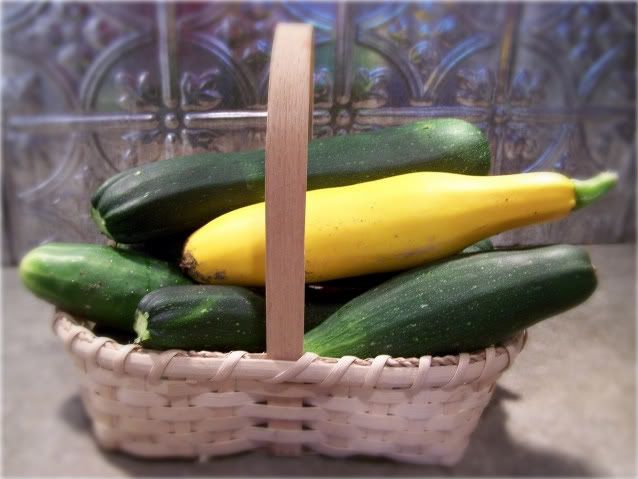 Sweet Success!
Now, what is a girl to do with all of these vegetables?
Well, we have been feeling a little under the weather this past week and had quite a few rainy days so I thought some soup could do us all some good. I made some vegetable soup and mini quiche for lunch. It was a nice combination and the kids really liked it.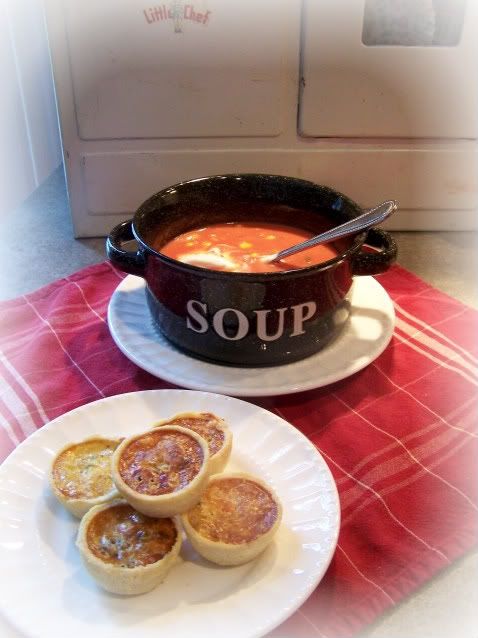 I sauted an onion

, one of our mini red peppers, and a little bit of minced garlic in a T. of butter. until transparent. Next, I chopped one of the smaller zuchinis and tossed it in too.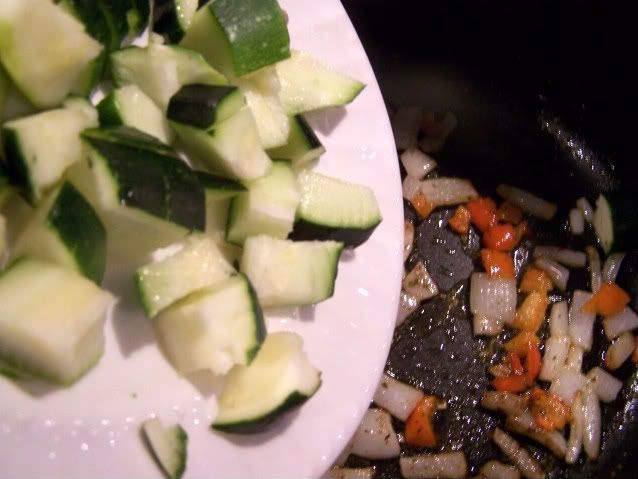 I opened up and drained a can of corn. I know what you are thinking! All this talk about my garden and I open up a can of corn! Corn is not growing in my garden and since I wasn't feeling so great and didn't want to hit the farmers market, I reached into the pantry, but you could def. use fresh corn.

Roasted corn would be great too!
I added some chopped basil, oregano and parsley from my garden.

Then I added a can of crushed tomatoes, about 1/2 cup of vegetable broth and brought it to a boil. Next, I added about 3/4 cup of whole milk and 1/4 cup of 1/2 and 1/2. Stirred it up and for extra creaminess I threw in a dollup of sour cream.....It was pretty good, and much better than a can of campbells.
I

have so many more recipes that I want to try!

I will be making zuchini cake tonight...if it is good I will share the recipe, so....stay tuned!
By the way

, the giveaway for the harvest sign is still on until the end of August, so if you want to sign up, just click on the link to the right and leave a comment, I just love reading everyones descriptions of fall, I am getting excited for its arrival!