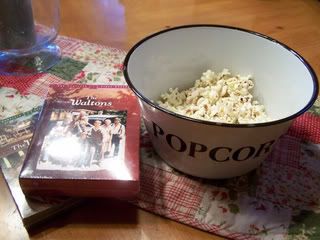 The Waltons will be our feature presentation on Family Movie night

each week here at the farmhouse over the next couple of months. I picked up seasons one and two the other day at the wholesale club and need I say anymore? The title should be enough. If you don't know anything about this program, you will have to catch a rerun on the hallmark channel..I think they still play them on there. It was a television series that ran during the mid 70's into the early 80's. The episodes are based on the author, Earle Hamner's, personal childhood memories of his boyhood growing up on Walton's Mountain in Virginia during the Great Depression.
I was so excited when I came across these videos, the complete series, seasons 1-8 all on DVD's! I hope to pick up the rest of them over the coming months each time I am shopping. I am not a big television person but I used to watch this show as a young girl with my grandpa each week. He just loved it since he could relate to it so well. He grew up one of eight children during the same time period in upstate NY. Throughout the show each week he would regularly comment
"yup, that's the way it was".
Oh how I miss my grandpa, and this show brings back fond memories of him.
Even as a young girl,

I admired that white clapboard farmhouse the family lived in, I loved every detail of the kitchen and how the family all sat around the radio each evening for entertainment. I just knew that someday I wanted a farmhouse just like that one.....with a nice country kitchen, a long front porch, and lots of children to fill it.
It is so funny now watching the program as an adult I think about how

many seeds this wholesome show planted

in my brain so long ago. In addition to loving the set, the message each show sends is just wonderful. I wish there was a modern day equivalent running now. We watched The Yearling, episode one in the first season. My children loved it too, so we have decided this would be our regular show on Family night, I was so happy! We are going to have voting for our favorite episodes at the end of each season.....Anyone have a favorite they would like to share?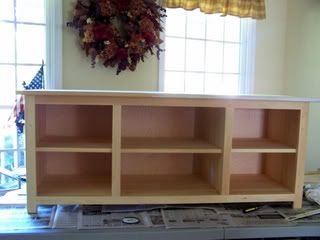 On another topic, I wanted to share

a project I recently finished

. We needed a new entertainment center for our great room. Our old one had seen better days and it was time for something new. I have been searching for something that I liked throughout the furniture stores but couldn't seem to find anything that I liked or if I did like something, it didn't fit into my budget, so I ended up picking up an unfinished and simple stand at our local country emporium.
After a light sanding, I painted it a creamy white, glazed,
and distressed it until I liked what I saw. Distressing is great since it will naturally occur in my household with a two year old, I don't mind it at all!



Once I was happy with the finish

,
I rubbed in a paste wax to seal it, let it dry then buffed it to a matte shine.
It cost me a fraction of the price of anything else in the furniture stores
and it is exactly what I wanted.
I love a good deal and the satisfaction of doing it myself!


I scream, YOU scream,
WE all scream for Ice Cream!





Getting back to our movie night

, we decided to make some
homemade vanilla ice cream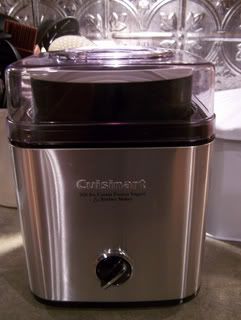 If you are in the market for an ice cream maker, check out a Cuisinart, I love mine. I picked this up at the end of the summer last year for almost half the normal price.
It is so easy to use and no rock salt is required.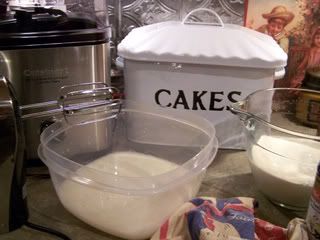 Fresh milk, heavy cream, sugar & vanilla.....
You simply pour the ingredients into the frozen bowl and let it do all the work...no hand cranking involved.
(I do still love the look of those old fashioned ice cream makers though....)