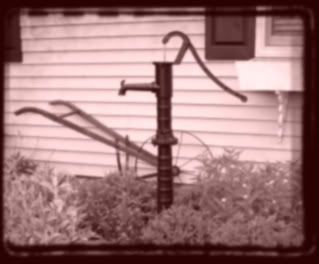 Makin Do!
I often times will use things in my home in unconventional ways. Some call it recycling, some repurposing, or being green. Items that are cast off for trash, possessions sold at tag sales, parts that are broken or outdated can be given new life in a home and reinvented with an unusual purpose. A different use than it had in it's previous life.....My husband has looked at me cross eyed like I was nuts when I brought some of these things....thank god he humors me often. He always loves my final vision in the end....once he sees it. He is a visual kind of guy and has to see it to know whether or not he will like it. I, on the other hand, imagine first. I imagine what I would like to see an item become and then I try to make it that way. I wanted to share with you a few of those items that I have revamped and or "made do" with throughout my home.

In order to stay home with my children we tightened our budget when we first married. At first alot of the repurposing and revamping came out of necessity, like when we needed a dresser for our daughters room and I painted and faux finished a thrift store find. When I realized that through this necessity I could express my creativity without worry..I wasn't destroying anything new or that I had spent a large amount of money on. In fact most of what I do use is quite inexpensive or sometimes even free. It is a creative outlet for me and I sometimes take a classic approach and use an item for its intended purpose and sometimes I like to mix it up a little...

Here is
an Old
Shoe
Factory
Shelf
turned
Pot Rack
that hangs over top of my kitchen island. I spotted it while at a craft
and antique show past the tables it leaned off the beaten path against an old building, I was attracted to the red peeling paint with the wood worn through, I instantly wanted it. The man that I purchased it from asked curiously what I was planning on doing with it after I shrewdly swiped it up. "It needs a lot of work" he told me "the paint is peeling"....Funny, since I actually thought that was what was giving it such character and I really liked the colors of it....I then asked him what it's prior occupation had been. After hearing that it had once held shoes in a factory I quickly gave
him the $10 bucks. Yes, $10! I knew that if it was strong enough to hold shoes and lasted 70 years then it would make do for my intentions. I then exclaimed to him "this here is my new pot rack"!....I smiled and left him with a puzzled look on his face. I brought it home sealed the peeling paint and purchased some wrought iron hangers and up it went. It has hung in my kitchen for the past 7 years now and I have gotten a lot of chuckles from people after they hear about it's past.
In my kitchen
I have a powder sugar shaker picked up at a garage sale for a buck that I keep readily by my sink. Instead of sugar, it is filled with baking soda. Oh and by the way, I love baking soda...another blog topic someday....a sprinkling of baking soda on my cook top to clean up spills afterwards. It is a great natural non-abrasive cleaner and works great on my kitchen sink.....more on that another day though!
You might also notice the back splash?
Ceiling tiles.
Mason Jars....
Don't ya just love them?
They can be used

for more than just canning! They make a nice vase, for poured candles, pen holders, drinking glasses, and that list goes on and on.....A little juice glass holds fresh picked wildflowers from my son Jake, picked special with his chubby lil 2 year old hands.....I love his fresh bouquets!

So sweet!
A four leaf clover I
pulled from my flower bed...
hmmm....maybe a good year for the flowers?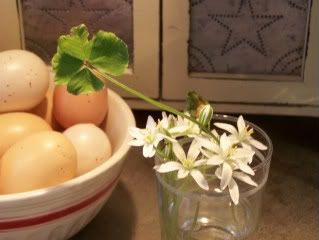 The New Ol' Water Pump...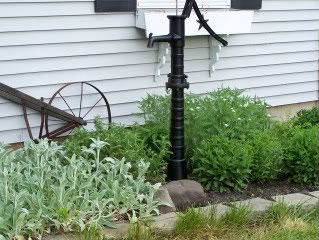 This was gift from my family for this past Mother's Day...I just love it...It is an antique and I am now using it as a decoration in one of my flower beds.....I may someday try to find a way to pump water through it...if I can ever manage to make the small pond that I want, maybe someday. For now it will keep my pretty little flowers company.
I can imagine all the hands that must have pumped water from this well to quench their thirst or how many times a bucket full of ice cold well water was pumped to bring into the kitchen for someones momma.....I like to imagine....

I am a daydreamer sometimes.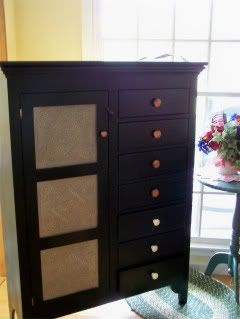 Here is the latest addition to our home

....a used cabinet pie safe purchased for a song...
I traveled about an hour away to pick it up yesterday and was so pleased that I liked the paint color on it...I thought that I would be painting it today, instead, I will be leaving it black and distressing it a little here and there. It came with all white knobs but I am in the process of switching them out to the wood knobs, hence the reason you can see three white knobs on the bottom.....I am not sure yet where I will place it or what it will be used for. Still working on that.
I have been eyeing a piece very similar to this piece for sometime now...but my budget wouldn't allow the expense so I just put it out of my mind as a someday, maybe, we'll see if I hit the lottery thing! Well I am thrilled to pieces that I found this one made by the same mfg. as the one I wanted and the price was an itsy bitsy fraction of it.....love when that happens.....
Well gals, I hope that you all have a wonderful weekend and that the weather allows you to get out and find some inexpensive items to repurpose and give new life and a new purpose to.....
Take Care, Dee
PS....See the rug under the cabinet above?
I use them to move furniture on hard floors...
slide them under and they work great and that's double duty!