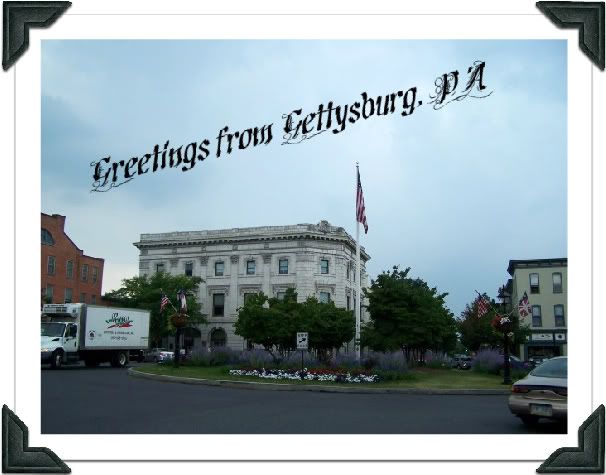 We had a

wonderful time

on our camping trip to Gettysburg, PA,last week. The weather couldn't have been better especially for this time of the year. Who would have thought we would experience 85 degree weather in the middle of July? It was perfect camping weather. I have to warn you that I have ALOT of pictures to share and I will do my best not to bore you with all of the details but that cute lil town has so many stories to tell.
Just being in the beautiful countryside was great, the fresh air and beautiful scenery.
Gods beauty surrounding you.
I fell in love with this beautiful old stone house....we drove right past it to get into the campground and I oooohhhhed and ahhhhhed each time.
This was a meeting place used by

Robert E. Lee

and then a civil war field hospital,
hard to imagine that in all it's peacefulness now.
Oh the stories it could tell!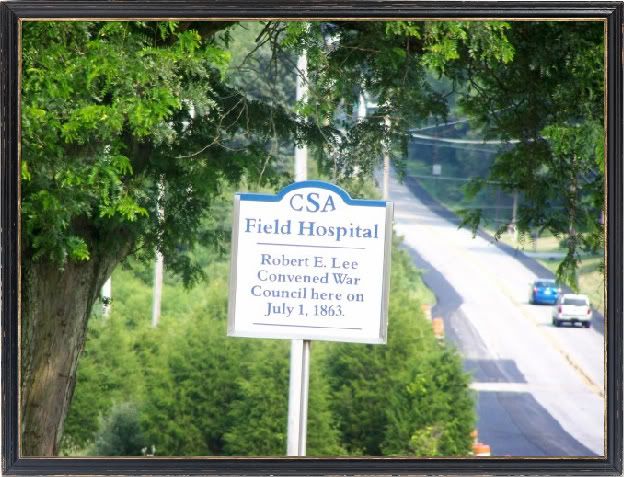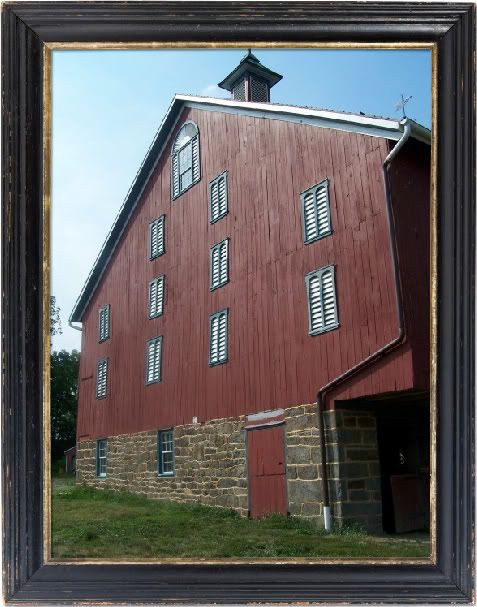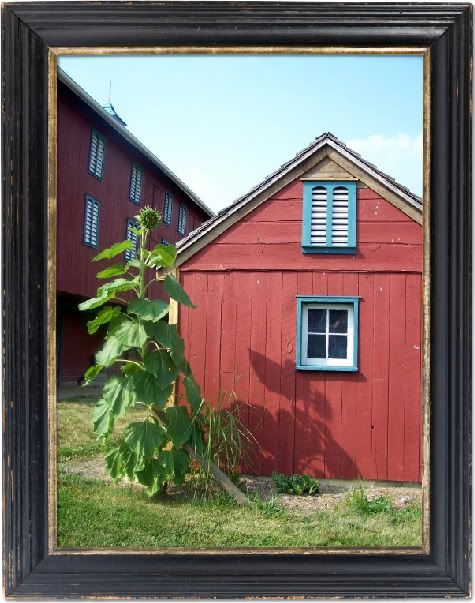 Here is the beautiful town of Gettysburg. It has

a central circle

in which all roads lead to different parts of the town, as it was in the 1800's. I did quite a bit of shopping here and met some wonderful shop owners. Everyone was so very friendly and kind natured. There was one shop in particular called Fiddle Faddle and the sweetest couple own it. I visited her shop on two seperate occassions and had a nice conversation with the owner each time. She gave me a quick lesson on rug hooking too, something that I have always wanted to learn. So I will be trying my had at that in the near future.

If you are in the area, it is worth stopping in, they were so friendly and sweet.
I picked up this McCalls Candle here. I thought it was appropriate for a camping trip and smelled yummy! A shop befitting of Gettysburg.
I just

love the old architechture
of this town and how it is preserved here.
Off one of the roads in the main circle of this old town stands this retro movie theater,
Just like that movie with Jim Carey. It was so neat, and plays old movies to boot. We wanted to go and see the playing of National Velvet with Elizabeth Taylor. It is an old movie my daughter, Sage, loves on that Wednesday evening but we decided against it with a crabby 2 year old, he never would have made it through. So we just admired it from the outside, so neat.
Here is

the Gettysburg Hotel

....it is a newer hotel over the top of an older building, but looked great all dressed in it's patriotic bunting.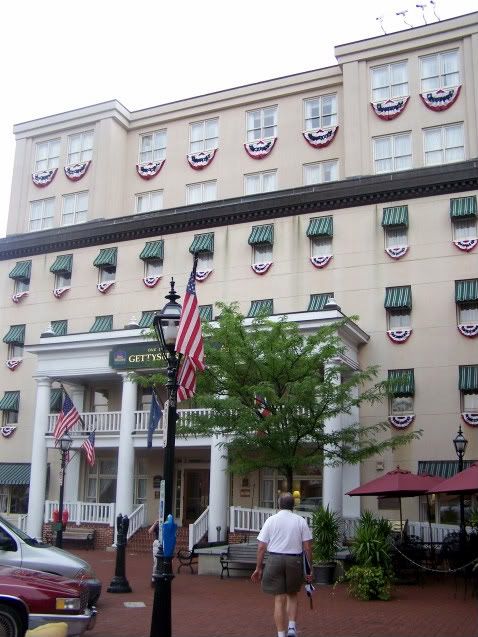 This is the Gettysburg Train station, it played a big part in the aftermath of the civil war Battle in Gettysburg. It brought wounded soldiers back home, and family members from other states into town to claim there loved ones, that did not make it. This is also the very station where
President Lincoln arrived and departed from Gettysburg Train station for the Gettysburg Address Speech at the National Cemetery.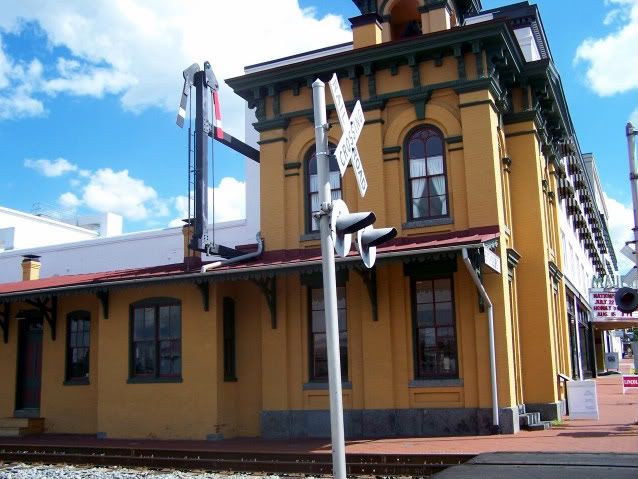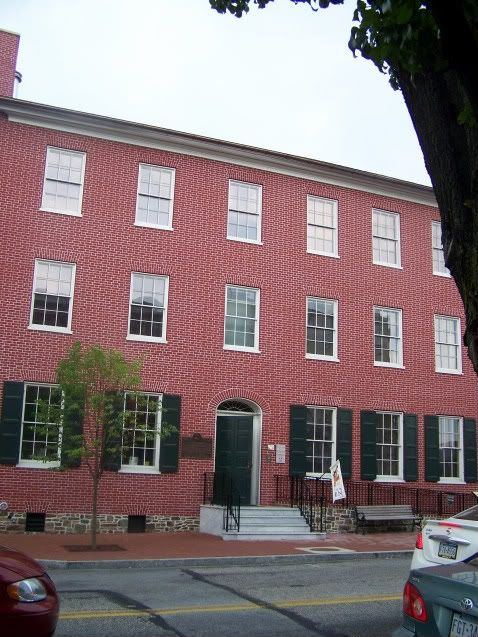 Above is the

David Wills house,

where President Lincoln stayed here the eve before the Gettysburg address, It is the very room and bed in which he slept. I thought that this bedroom was georgeous, and I loved the wallpaper. The coverlet is the one Lincoln slept with too, neat huh?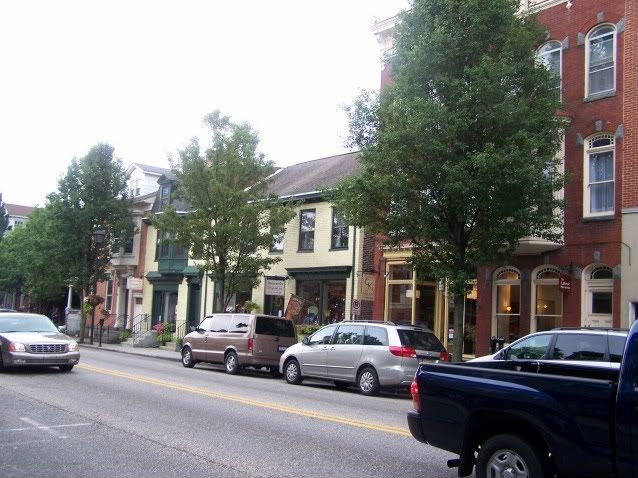 This is the street in where I found a store in Gettysburg that I just loved! It was

an old five and dime turned into an antique store

. Their prices were very reasonable and it was huge. The had an old ice cream counter with $1 cones....my kids loved that. Again the people in here were so nice.
I found most of the treasures below in that store.
Presents for the Farmhouse
That old wash boiler is huge! The antique girls dress is handmade, and the pillow is made from an old table cloth. I will be making a centerpiece for my dining room table out of the green carryall, and a lamp out of the old can with a spout. I can't wait to have a minute to make it.
Beautiful Pennsylvania Barns.....
This barn was on the battlefield,
you can see the hole from a cannon at the top of the bricks, left as it was. The battlefield encompased many farms as well as in the actual town. So many lives were interrupted for many months following the battle, and several were unable to recover from the effects the war had on them.
A silent reminder of the scars left on this beautiful part of our country.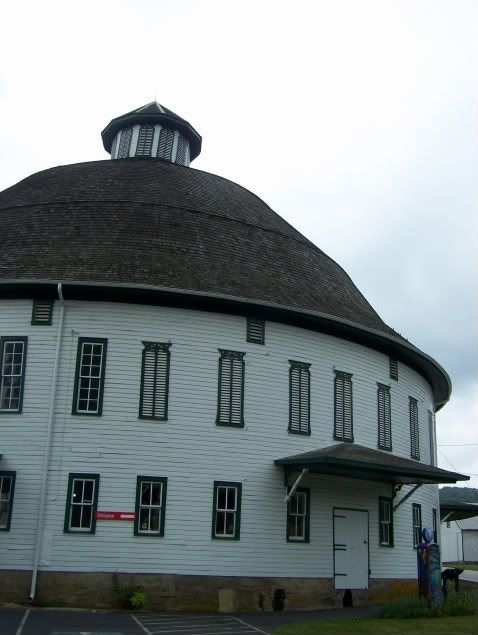 This was the neatest barn...a round barn.

An operating orchard and farm,

they sell some great homemade products inside as well as country items for your home. The second story was the neatest thing, they had lights strung all over it.
I would love to have had a wedding here, it is so beautiful.
Above another barn to drool over, oh the things that I would use that for.....(dreaming), maybe some day.
Here's my children ontop of a cannon...we didn't do too much of the battlefields this year, only what we missed last year. They are on Brenners Field here, and my son was fed up with history and pictures at this point.....geeesh, two year olds are so uncooperative! Just kidding, he did really good for a two year old actually!
I have

more pictures of the actual camping in the post below.
Unless you need time for your eyes to adjust...
I know this is alot of pictures, but this is only a fraction of the album!