Snowflakes are Kisses dropped straight from HEAVEN...
Wintertime is officially here in my neck of the woods...lots of snow covering the land, washing it over in sparkling beauty.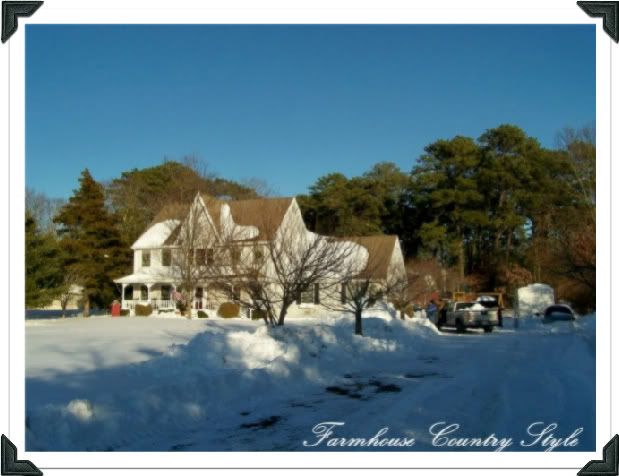 Someday

, when my children are grown and remember their

childhood winters

...
I want them to remember the picture above in their minds.
A picture of home, covered in snow and being sheltered safely inside with a fire going, something warm from the kitchen and being together.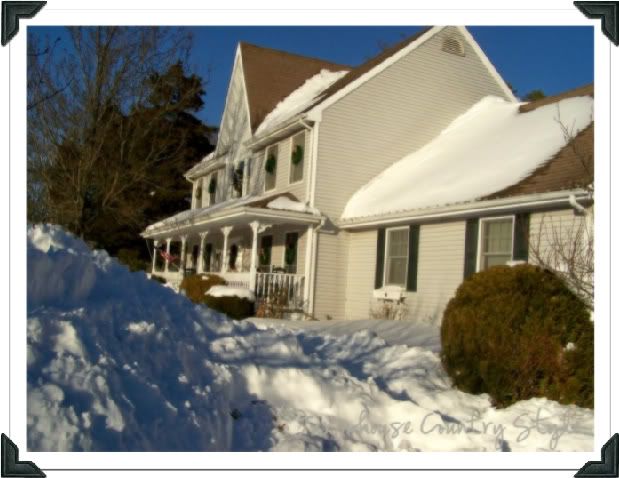 The day after Christmas a

snow storm

started along the east coast and continued for a couple of days..it brought two feet of snow to our area. It was beautiful.
After being inside for a couple days we ventured out for a

winter walk

. That turned into a snowball fight and the kids sliding down the large mountain of snow that our neighbor plowed in front of our house when he dug us out. Yes, we were as snowed in!!
Thank god for good neighbors!
Once back home, my middle child immediately claimed her post on top of the mountain from which she could easily toss snowballs down on us.
But briefly stopped for a sweet picture, secretly hiding the two snowballs under her gloves.
Her little brother wasted no time climbing to the top to join her....
Mhmmm...king of the hill.
I wasn't climbing up there.....but I have pretty good aim.
It's all fun and games.....until someone gets hurt.
Yep, that's what my parents always said and now I'm their echo...lol.
With three brothers you can just imagine how often that was said in my house.
Once my son fully experienced what a

frozen snowball

running down the back of your coat feels like he wasn't happy.
(He might even keep his coat buttoned to the top next time instead of thinking it was choking him)
His sister really isn't evil.....she's actually quite sweet, especially to him.
She just thought it was funny when he exclaimed through his wailing...
"snowball fights are reee-dic-A-lous"!
Then we called it a day.

Oh...by the way, did I mention that my hubs retreated to the porch after the first couple of snowballs....
no fair! He was exhausted from shoveling a 50' pathway to the driveway...I can't really blame him.
I love that my children can experience the type of winters I did when I was a child.
A good old fashioned snowball fight
is something every child should experience. I hope you are enjoying the beautiful winter weather in your neck of the woods,
if you get such a thing.
I haven't forgotten about the surprise giveaway.
I received some exciting news before the holidays and am waiting for the right moment to share it, I think I'll pick the giveaway winner when I'm in the clear on it. This way I'll spill the beans on everything all at once. Thanks for being patient with me.