It's Crab Boiling time again...
Ahhh, I should have known that when I was taking these photos
they would come back to haunt me.
Tease me.....yes, taunt me.
Mouth watering.
they are just plain naughty.
Alright...I'm not going to show you all these photos without sharing the recipe so you can have a Crab boil of your very own...that would be just plain cruel. lol.
So here goes:
Low Country Crab Boil
Shuck 6-8 ears of corn & break in half
1 lb. of petite red "taters"
1 lb. of sausage-sliced into 1" pcs.
1 lb. of fresh little neck or mahogany clams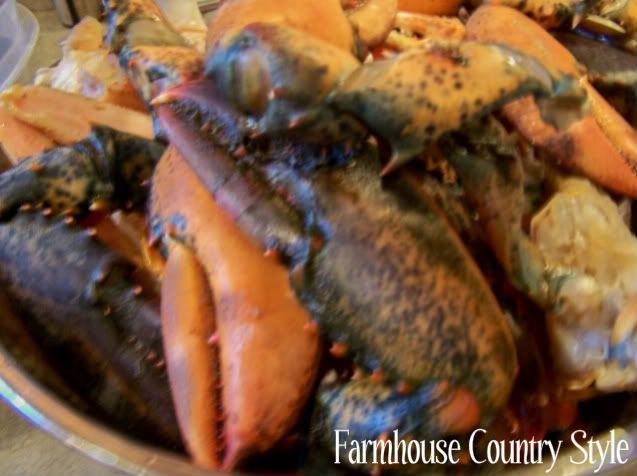 1 lb. of king crab legs
1 lb. blue claw crabs
1 lb. shrimp
**
Fill a
large
pot (I use my canner with metal inserts removed) 1/2 way with water, add 2 cups chicken stock , 2 T
Zataran's Liquid Crab Boil
, 2 bay leaves, 1/4 c fresh parsely chopped. 2 T old Bay Seasoning
**
Boil sausage, taters and corn for apx. 20 minutes or until taters are soft.
**
Remove taters and corn with slotted spoon or tongs reserving broth in pot.
Yeah, go ahead girl, slap some butter on those cobs n taters!
You know you wanted to. Put aside in a seperate covered dish to keep warm.
**
Into the simmering broth layer (in order) Clams, then lobster claws and cook for 3 minutes.
**
Next layer king crab legs, blue claw crabs, then mussels and cook for 3 more minutes.
(Leave everything in the pot...and proceed to next step)
Is your mouth watering yet....don't worry we're almost finished!
**
Lastly
, add the shrimp on top. Cover and boil for apx. 3-5 minutes or until shrimp is
PINK
.
Remove everything with tongs.
***
I make a red Clam Chowder, using the broth, left over taters and corn....
everything marinates in the broth and it is the best chowder evah!
***
(You can also freeze it for future use.)
**Serve with melted butter, garlic butter, and
Homemade cocktail sauce made from 1 c ketchup, and 1/4 c. grated horseradish.
NOW....
Grab Your Claw Crackers and go to TOWN
.....do not expect this to be a neatly eaten meal...
that's just not going to happen!
Fresh homemade coleslaw to go with it.
Make sure your table is layered
with a plastic table cloth then covered in newspaper, plastic plates and cups for easy cleanup! I put out wood crab crackers and lobster picks with a whole roll of papertowels...
this meal is to be enjoyed, no fancy eatin' here, you will be a mess when through!
Now if you compare the cost of making this meal to the cost of going out to a good seafood restaraunt and feeding 8-10 people this wins hands down. We live along the Jersey shore so
Fresh Seafood
is readily available and sold at a reasonable cost to us. We spend alot of summer days catching our own crabs and clamming so if you can do the same you can eat your own catch as part of the meal too.
My family looks forward to this each summer. Lots of great memories have been made around our Crab boil table and I can't wait for the next one.
Take care,
Dee