Well September has arrived and summer has been quietly wisked away. My children started back to school this week and all is now quiet in the farmhouse. It is a bittersweet quiet. I miss them when they are gone but I can get so much more done in a day. I do still have my little man here at home with me though, and he keeps me quite busy!
I am so happy that I still have him here with me, he is such a blessing!
I had my husband take out the boxes of fall decor from our barn last week....oh boy does he hate that chore! I go a little overboard with the decorating from now until chirstmas but I absolutely love it. We host a halloween party, Thanksgiving and Christmas dinner at my home and I love making it totally festive for the seasons. I have collected my decorations for a long time and use them in different ways each year. I have to say that no matter how big or little you decorate for the season the simple fact that you rejoice in the changing seasons, you are showing your family your love....and that is beautiful.
I have only completed my living room and entryway so far and I plan to post everything in parts, it makes it more fun than rushing to get it all out at one time! I like to take my time and allow my home to gracefully change seasons exactly the way mother nature allows our world to gracefully change over......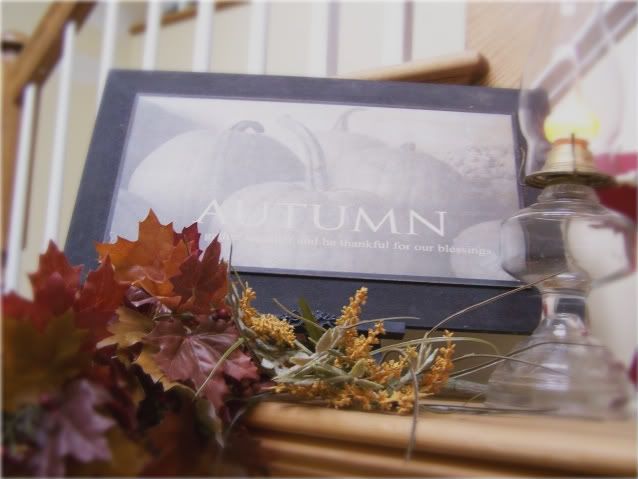 When you enter through my front door, just past the pumpkin filled porch of my home,

you are greeted with.....an autumn sign and festive wreath, the pumpkin spice candle burns in the early evenings encompassing you with cozy smells of the season upon your entry.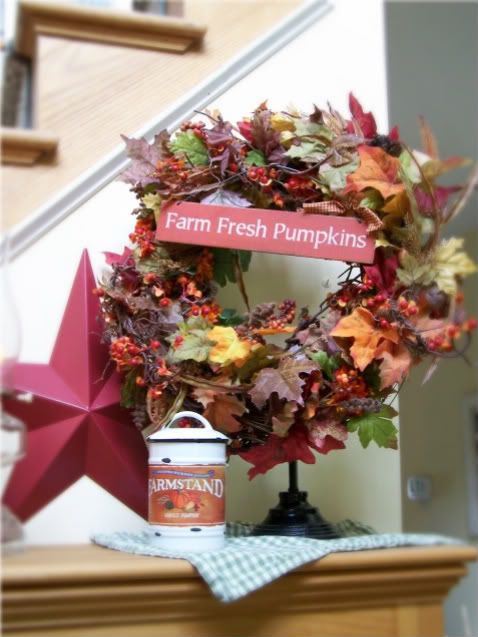 Down the center hall you come to the living room, the everyday tones of this room have already set the stage for an autumnal atmosphere, the warm yellow walls, red sofa, and sage greens all somehow blend in.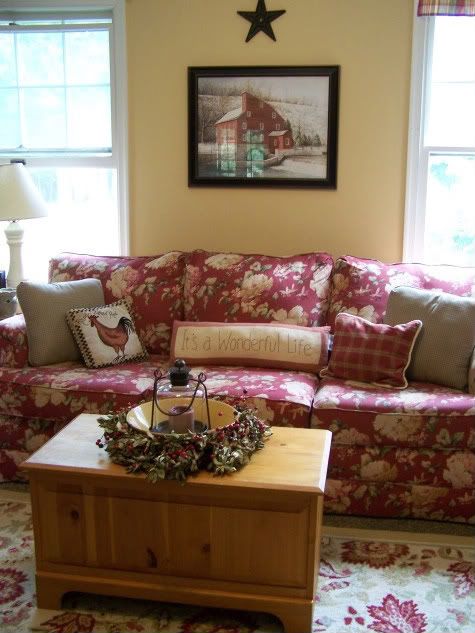 A wreath, instead of being hung on the wall, is laid on the table and an antique bowl popped into the middle creates a base for a candle holder....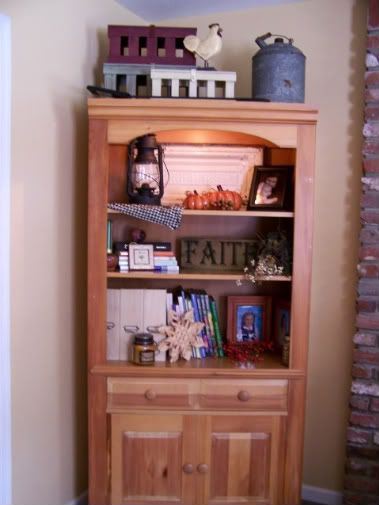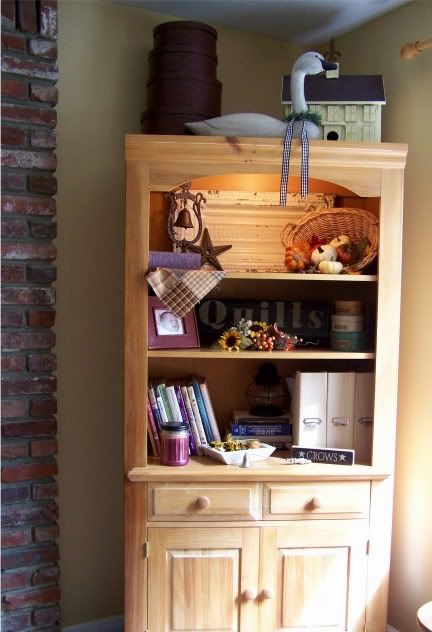 Those peely and chippy panels in the back of my bookshelves are the real deal...I picked up a set of them at an antique store years ago to give my bookshelves more personality. I like the textured backdrop they provide for my collectibles.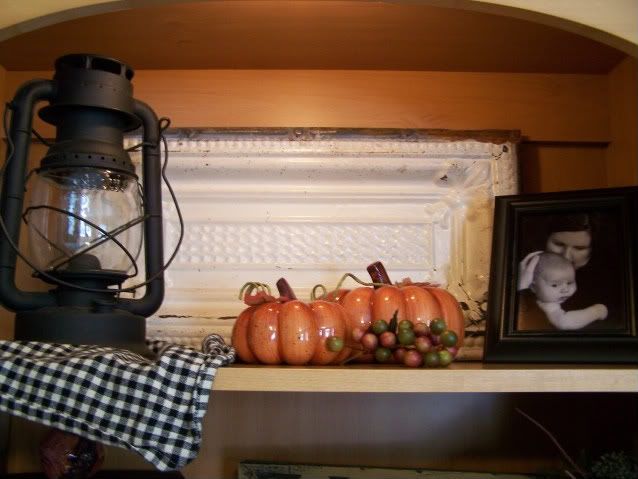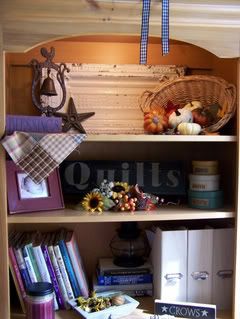 I hope that you are feeling comfortable here now...have a seat and look around,

here is my favorite well worn chair.

A make shift end table made from an old peely chippy (love that) crate lifts an old picnic basket up to exactly the right height for me to place a warm cup of tea, a quilt right at hand for snugglin in the colder weather drapes across the chair. This room has a woodstove that when fired up in winter warms this room just right, it is in the process of being painted right now for the coming cold months so I will show that when there is a roaring fire going in it.
On that table beside the favorite chair is a pile of old books.....love the 1931 diary, an interesting read picked up in an antique store.

I am amazed at how simple their lives were then and the things they held dear were simple and pure

. The color is what attracted me though, they are tied in a pile to keep them safe from my young son's hands and artwork!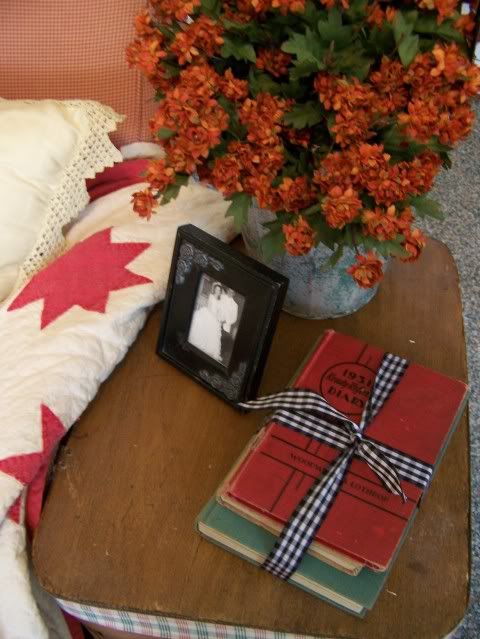 A simple pumpkin colored spice candle picked up at a chain store is placed upon my toileware dinnerware, I like the simplicity of this and it will be changed out for a green candle at christmas time. It cost me $2, and the plate would just be sitting inside my china cabinet all the year through anyway......a simple, inexpensive touch for the season.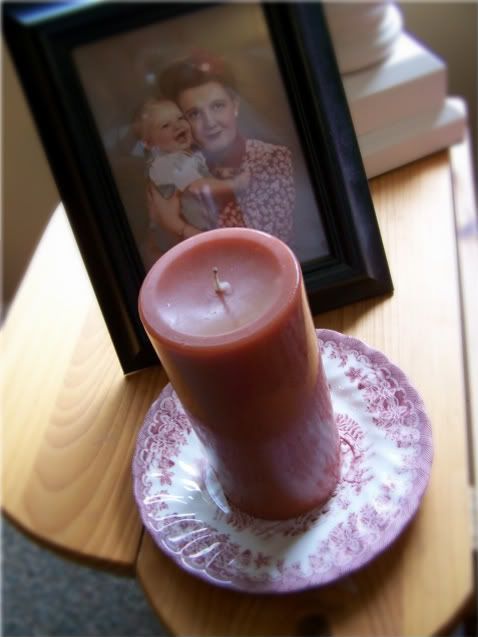 Although this room is used primarly for reading and quiet time

, we do still have a television in here that my husband and I occassionally watch, when our children are occupying the family room with games or friends. I decorated the top of my entertainment cabinet with some seasonal accents too.
The picture is of my husband with our two daughters. Our middle child then the baby inside a back pack, they are standing in the middle of a pumpkin patch. Placing your seasonal memories in frames is a great and inexpensive way to decorate your home, I change them out for the seasons too. They were so little then....sweet memories!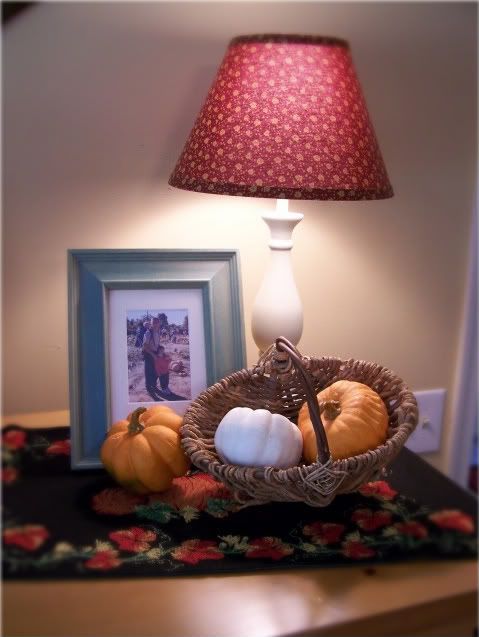 A simple autumnal colored bowl from your kitchen can inexpensively be filled with real acorns, and things from around your yard or nearby park or you can pick up some faux mini pumpkins from the local craft store for $1 a bag as I have done here.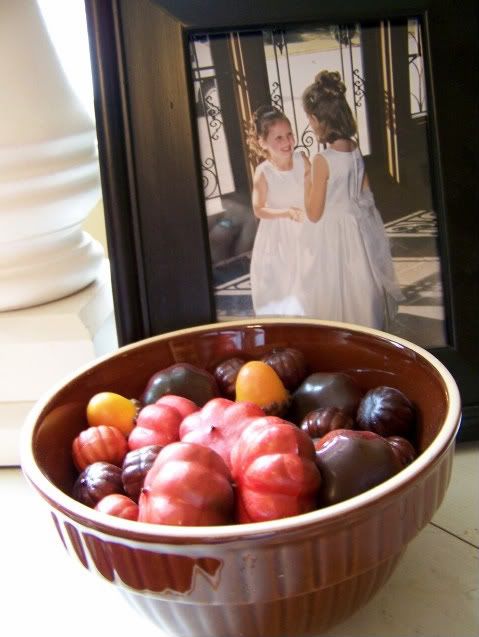 I patched together some autumn colored fabric squares

....this can be made with scrap fabric or old clothing. It is just a basic straight stitch, I hope to finish it into a mini quilt it one of these days.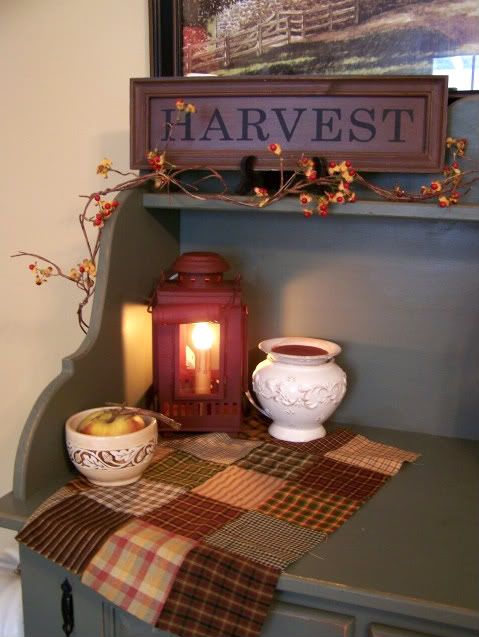 Another seasonl figurine under my cloche has been changed out for the season....my favorite decoration right now,

the small children praying over their harvest, reminding us to be ever thankful for all that we receive.

I covered those paper mache boxes in some calico to raise up the cloche and display the piece, giving it a little more importance.
I like to decorate in different scales in my home, raising and lowering things to grab your attention and surrounding it with different textures, the soft fabric, the rough cornstalk, shiny glass gives displays interest.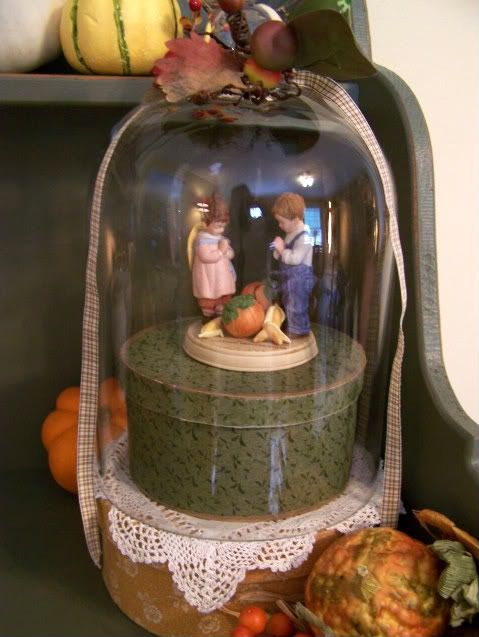 That completes part one of my autumn tour.......here is a peek at part two coming next week, a small hutch in the corner of our front parlor. I will have the front porch, kitchen, dining room and family room posted soon as well.
~I hope you have enjoyed my first tour .....Be back soon!~